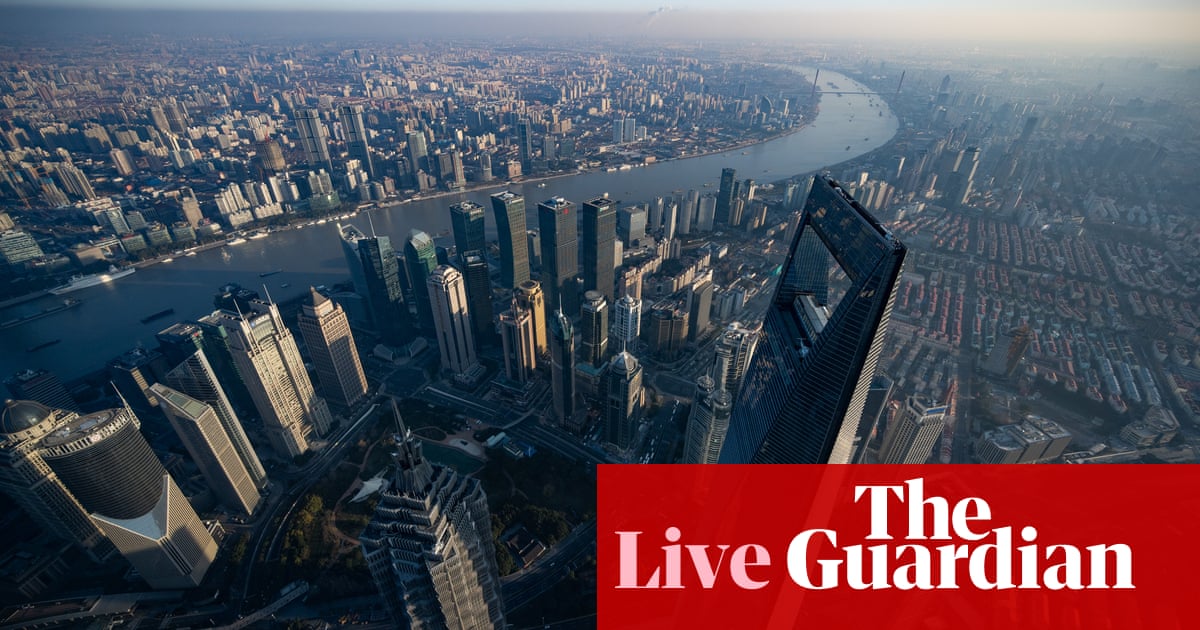 Good morning, and welcome to our rolling coverage of the world economy, the financial markets, the eurozone and business.
Worries about China's economy are rising this morning, after growth across its manufacturing companies all-but-stalled, and its service sector contracted for the first time since the height of the pandemic early last year,
The latest official survey of purchasing managers showed that the Chinese economy cooled in August, as rising raw material costs and the ongoing Covid-19 pandemic hit companies.
China's manufacturing Purchasing Manager's Index fell to just 50.1 in August from 50.4 in July, data from the National Bureau of Statistics (NBS) showed this morning. That's only slightly above the the 50-point mark that separates growth from contraction.
Factories reported that new orders fell this month, with new export demand hitting its lowest in over a year, leading to another month of headcount cuts.
The service sector had a more torrid August – with China's services PMI tumbling to 47.5 this month from July's 53.3, into contraction territory.
That's its weakest reading since early 2020, in the early stages of the pandemic. It shows the services sector shrank this month, as coronavirus restrictions were reimposed and consumers became more cautious.
This pulled the August composite PMI, which measures manufacturing and services activity, down to 48.9 from July's 52.4.
The data suggests a broadening economic slowdown this month, as China introduced restrictions such as travel restrictions to curb its worst outbreak in months.
NBS statistician Zhao Qinghe said services sector companies, such as catering firms, transport companies, and the accommodation and entertainment industries were most hit by the pandemic:



"This epidemic in multiple provinces and locations was a fairly big shock to the services industry, which is still in recovery."
The data will increase pressure on Beijing's policymakers to take new steps to support the economy, analysts say.
Julian Evans-Pritchard, senior China economist at Capital Economics, said China's economy looks to be 'coming back to Earth' following a period of above-trend output after the pandemic.



"The latest surveys suggest that China's economy contracted [in the] last month as virus disruptions weighed heavily on services activity. Industry also continued to come off the boil as supply-chain bottlenecks worsened and demand softened.

"Most of this weakness should reverse in September. With domestic virus cases now back in the low single digits, many regions have started to relax containment efforts. But we don't think the latest drop in the PMIs should be entirely shrugged off as a temporary hit from the Delta wave.

"There were signs in the July data of a growing drag from tight credit conditions, which probably extended into August.
European markets are set to open higher, after the US S&P 500 and Nasdaq both hit record highs last night.
Wall Street is relieved that Federal Reserve chair Jerome Powell didn't announce plans to taper the Fed's stimulus programme last week.
The agenda
8.55am BST: German unemployment report for August
9.30am BST: UK mortgage approvals figures and consumer credit figures for July
10am BST: Eurozone inflation, flash estimate for August
1.30pm BST: Canadian GDP for Q2 2021
2pm BST: US house price index for June